The Wonderful World of Saluki's
No kennel begins a line from out of thin air and we are no exception. Before you look at the pups that we have available or the young adults we would like you to understand where we began. With Saluki's we owe our start to Dr Afton Blake of Srinagar Saluki's. Srinagar has been breeding saluki's since 1958 and most of the Saluki kennels with top winning dogs today have Srinagar dogs in their backgrounds somewhere. The epitome of breed type these graceful creatures are a 10,000 year old breed and remain relatively unchanged today. Aloof and protective, funny clowns and serious contenders, royalty always. We are in love with this breed and hope to be able to contribute to it for years to come.
In 2008 we showed BISS Ch Srinagar's Fatima Asawari to her AKC Championship taking a 5 point major from the open classes, and then going up over 13 specials for BOB at the Ocala supported entry under breeder judge Carol Beyerle. A month later Fatima finished her Championship in Orlando with a 3 point major. During her 9 month stay with us Fatima had multiple Best of Breeds from the classes to finish in the Eukanuba top 20 for 2008. She was returned to Dr Blake for breeding in December of 2008 and whelped a litter of beautiful puppies in March of 2009. In June Fatima returned to us for conditioning and showing, she is now CH Srinagar's Fatima Asawari JC, She is working on her senior coursing title and she lives with Dr Blake in Los Angeles California

In March of 2009 our beautiful and funny male Srinagar Morocco Adar El Bayeda(or ducky as we call him) joined our home. He went 1st in the 12-15 month puppy sweeps class and first in the 12-18 month puppy class at the nationals. He has always been in the ribbons and in the fall of 2009 he took a 5 point major over specials in Atlanta at the age of 9 months. Ducky earned the second leg of his JC title in Chattanooga that fall as well.
UPDATE: Ducky earned his Championship in Atlanta Feb 6th and 7th 2011 with back to back 4 point majors! CH Srinagar Morocco Ad-Dar Al-Bayda Yashanti JC and his Grand Championship in 5 shows in 2012

In January of 2010 Ducky became the dad of several really lovely Saluki puppies. Two that we are actively showing here in the USA and one that is being shown in Russia.
To follow Ducky and his kids check out his page above
Please follow future kids on the "now showing" pages of our website or in Future Generations

Check back for more on our saluki's and in the meantime if you want to learn more about the Saluki we would like to recommend.
The American Saluki Association http://www.americansalukiassociation.com/ beginning in 2012 every puppy we breed includes the first year of membership in the ASA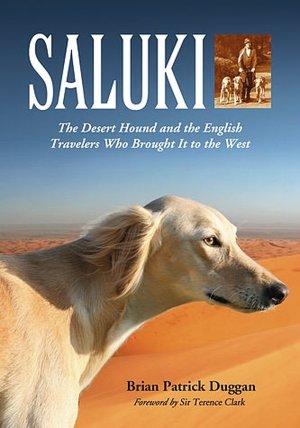 Saluki
The Desert Hound and the English Travelers Who Brought It to the West
Brian Patrick Duggan
Foreword by Sir Terence Clark
Description
One of the oldest known breeds of domesticated dogs, the Saluki traveled throughout the Middle East with desert tribes, who valued the dogs for their ability to hunt gazelles. Famously painted on the walls of the Pharaohs' tombs, the Salukis' history intrigued English dog enthusiasts who were instrumental in popularizing the breed and importing it to Europe and the United States in the early 20th century.
This book tells the story of those who brought the Saluki to the West, most notably Florence Amherst, who discovered the dogs while in Egypt and went on to breed 50 litters. Other world travelers who fell under the Salukis' spell included Lady Anne Blunt, Austen Layard and Gertrude Bell. Also covered are lesser-known Saluki aficionados, mainly military officers who hunted with their hounds in Iraq, Syria, Palestine, and Egypt and sought to replicate that experience at home.
About the Author
Brian Patrick Duggan is the Director of Learning Services at California State University, Stanislaus. He has lived with Salukis for over 30 years